Swifty Adult Electric Scooter FAQs
> Sign up to receive exclusive news and promotions for Swifty e-scooters direct to your inbox! <
Swifty's range of big wheel electric scooters give you the opportunity to seamlessly mix electric and active travel on a scooter that is safe by design, built to last and gives you the freedom to move!
Swifty e-scooters are steadily building a reputation for unrivalled stability and handling. This is largely down to the tried and tested geometry of the frame/chassis and the 16" bicycle grade spoked wheels. For someone who has not ridden electric before, navigating the specifications may be daunting, but in actual fact the simplicity of these wonderful devices is the main appeal!
There's a lot to consider when looking for an electric scooter that suits your needs, so we've highlighted some of the top questions we've been asked by customers in regards to our large wheel e-scooters for a quick one stop shop on everything you need to know!
1. How long does it take to charge the battery?
It takes 4-5 hours to fully charge.
Our 36V, 7.5AH, 270Wh lithium-ion battery takes around 5 hours to fully charge, meaning if you're using your electric scooters to commute it's easy to fully top it up in the working day, so you can ride home with confidence. 
Our e-scooters come with a compact charger that makes it super easy to charge on the go!
2. What is the maximum rider weight?
150 kg / 330 lbs
Scooters suitable for heavy adults can be hard to come by, but our whole range of adult e-scooters can be comfortably ridden by heavier riders up to 150kg so there's no need to worry!
Get all the build quality and reliability our regular scooters are known for while getting the added electric boost.
3. What is the maximum speed of the e-scooter?
25 kph / 15.5 mph
In line with e-bike laws our e-scooters have a max speed of 15.5mph when using the electric power. Our electric scooters come with a Backlit LCD screen that allows you to keep an eye on your speed as you travel, as well as monitor battery level and see how far you've travelled (odometer).
15.5mph is the max speed when using the top power mode on your Swifty-e but our e-scooters have 3 different acceleration modes that help you control your speed safely and comfortably.
4. Does the battery have to be removed from the scooter for it to be charged?
You can charge the battery both on or off the scooter.
Our 36V 7.5Ah / 270Wh lithium-ion battery can easily be removed from your scooter in order to store it, or charge without needing to be mounted on the scooter still. The battery comes with a lock and key so can easily be secured to the scooter if you prefer to charge on the scooter!
As mentioned above it takes 5 hours to fully charge your scooter, so it's a breeze to park your scooter somewhere safely and put the battery on charge while at your desk at work, or overnight!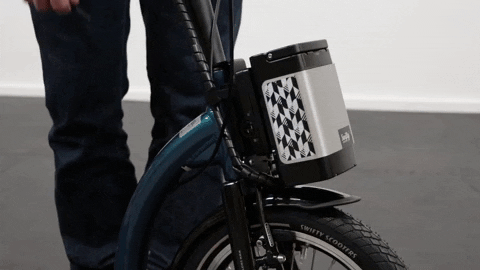 5. How far can you travel on a full charge?
40 km / 25 miles battery range at full throttle. 
This is our average range, but it can vary depending on terrain, weather conditions, rider weight, tyre pressure, rider fitness etc. 
One of the best things about the Swifty electric scooters is that you don't need to rely on e-power to travel on them however, they can be kick scooted just as easily. This means you can ride using the throttle only and add human power when needed, or vice versa!  Riding in this way can extend the range up to 50 miles.
6. Are you able to turn the power off so you can kick scoot?
Yes.
Swifty's electric scooter range all gives you the ability to use either e-power, kick power or a combination of the two. We use a 250W brushless hub motor which freewheels easily, working the same as a kick scooter! 
You can either have the acceleration mode blank and keep the LCD screen on or turn the power off and kick scoot as you would a regular Swifty. Travelling like this will save battery life and extend the range!
7. Is the battery waterproof?
Yes, the battery is IP65 rated.
IP65 rated means that the scooter and all electronic parts are 'Protected from low pressure water jets from any direction, limited ingress protection'. In short it means they're waterproof, so you can scoot in the rain!
Key things to note are that you must not submerge the scooter in water and if you're doing a bit of maintenance or cleaning it after a muddy ride then do not wash using a pressure washer. 
8. How long will my scooter last?
All Swifty scooters are built to last, and to be easily serviced. 
Our kick and electric scooters all come with 2-year manufacturers warranty on the frame, and 1 year on the electric components. All the scooters we make are built to last thousands of miles of fun!
All parts of our electric scooters are adjustable and serviceable. We ensure that quality goes into every aspect of our scooters and in making the parts serviceable we're able to maintain this quality so the scooters can be passed down generations and enjoyed by all.
To learn more about this you can read Swifty's quality promise HERE
9. If I have a problem with my Swifty electric scooter, what do I do?
Contact our friendly customer service by email or on the phone.
We're always here to help if you're having issues with your electric scooter. We're available 9am-5pm UK time Mon-Fri, so if you have an issue or any queries in regards to your e-scooter don't hesitate to give us a call!
You can find more contact information HERE.
10. Where can I ride my Swifty Electric scooter?
Please check your local legislation for e-scooters (PLEV)
Please note currently in the UK privately owned e-scooters are only allowed on private land. Rules vary depending on your location, so we recommend contacting your local council.
To keep up to date on the UK situation and how close we are to legalisation read our blog below - 
11. What does the term 'kick-assisted' mean?
You are able to ride the scooter as a regular kick scooter with no resistance from the motor.
Our electric scooters 'kick-assist' design will dispel any 'range-anxiety' during your journey, you can easily choose to extend your battery range by using human power. We use a 250W brushless hub motor that has no resistance when you're using it as a regular scooter.
You can ride your Swifty e-scooter with any combination of kick or electric power. For example you could kick scoot most of your journey but when you reach a steep hill use the e-power to help you get up it then freewheel on the way down! 
This also means if your battery runs out halfway through your journey and the battery runs out you're not stranded, and can comfortably kick scoot to your destination!
12. Does kick scooting charge the battery?
No
When kick scooting your Swifty electric scooter you will not be building any charge to the battery. The only way to charge the battery is to connect it to the mains and charge it as you would your phone or laptop.
For more info on our big wheel e-scooters you can watch our quick start video - 
> Sign up to receive exclusive news and promotions for Swifty e-scooters direct to your inbox! <