Scooter Staycations – What to Do in Cromer, Norfolk
Lots of us are looking for places closer to home to get away in the summer so we're highlighting some of our favourite scooting places to head – starting off at the coast.
Everyone loves the beach and Cromer in Norfolk is one of our favourite locations to head to for some seaside fun!
The range of Swiftys is great for a full family adventure, for this trip we chose to go with a SwiftyONE, SwiftyONE Marine and SwiftyIXI for the kids!
If your youngest isn't quite big enough for a SwiftyIXI don't worry you can bring them along with our Booster for Kids! Easy to attach to our adult scooters models it allows your little one a front seat to ride along in tandem with you.
Scooters designed for the coast
SwiftyONE MARINE was made for life at the seaside. The big wheel adult kick scooter has an aluminium frame and forks as well as a wealth of upgraded stainless steel components that are ideal for dealing with sea spray and the element the coast brings on a daily basis.
Sealed cartridge bearings, and blue anodised CNC machined aluminium axle nuts also add to making the scooter the perfect coastal transport.
Weighing only 7.8 kg (17 lbs) it's super lightweight making it easy to fold up and carry with you as you head onto the beach. The ease of folding it down also makes it great for getting in the car if you're just driving down to the coast for the day and can easily store it in a beach hut!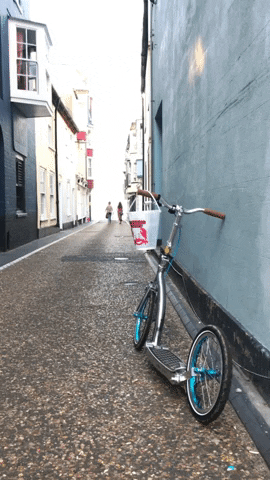 Benefits Of Big Wheel Scooters
Places like the seaside are where Swifty's 16 inch wheels come into their own. Scooting down the prom with loose stones everywhere can be lethal on a small hard wheel scooter, but our pneumatic tyres effortlessly glide over the mixed terrain meaning you can soak in the views with confidence.
The same goes for our big wheel kids scooter SwiftyIXI. The 12-inch pneumatic wheels are perfect for exploring the coast while giving your children the safety and grip to handle the changing conditions.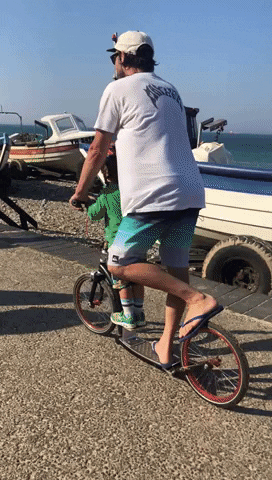 Carry Everything You Need on Your Scooter
Packing for a day at the beach can be stressful but with the Rixen & Kaul Shopper Pro Bag (attached to the yellow scooter below) your scooter can put that worry to rest. The bag's 24L capacity gives you plenty of room to fit the whole family's essentials without needing to worry about backpacks.
With a drawstring cover that gives you the ability to close the Shopper in seconds you can keep your food safe from any bugs around or keep contents dry from any rain that appears!
The shopper bag and our other range of scooter panniers and bags are incredibly easy to attach to all our adult scooter's frames with the KLICKfix Caddy Post Clamp Adapter.